Over the last quarter, the Vidrio team has remained hard at work on this year's key initiatives, including important progress on the next generation of Vidrio. This quarter's newsletter summarizes the innovations delivered in Q3 and our top priorities through the end of the year, including broader multi-asset class capabilities, multiple analytical enhancements and an all new user interface.
In This Issue
Strategic Initiative - Multi-Asset Class Allocation: Private Assets

Helpful Hints - Product Q&A

A Sneak Peek at the Next Generation of Vidrio

Thought Leadership Round-Up: Most-Read Q3 Blogs from the Vidrio Team
Strategic Initiative - Multi-Asset Class Allocation
Private Assets: Private Equity, Private Credit and Real Estate
Vidrio continues to enhance our platform and services to support the unique, evolving nuances across private asset class allocations. We are releasing a number of new related cash flow features and statistics enhancements, and have completed integration of the Eurekahedge Hedge Fund & Private Equity Fund Databases into the Vidrio platform.
Please contact info@vidrio.com for more information.
FAQs and Helpful Hints
Get the most out of your Vidrio platform with these FAQs from the Vidrio user community.


Q: Are there reporting tools within Vidrio for my investors and other stakeholders?
A: Yes. As demands for increased reporting continue, Vidrio has developed powerful tools to support information collaboration to other stakeholders.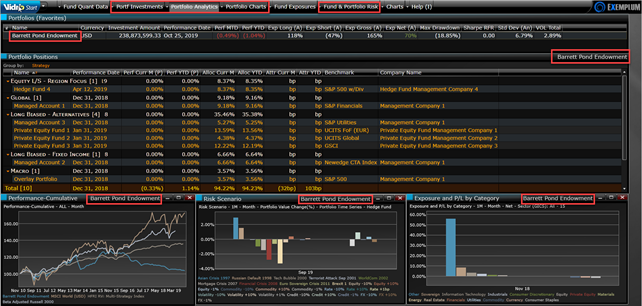 As shown above, the Vidrio "Investor Portal" enables our clients to provide customized and secure web-based access to internal and external stakeholders:
Flexibility: Highly configurable user-defined universe.
Maximum control: Directly configure access for each stakeholder ensuring they see only the data and documents you intend them to see.
Q: Can I conduct "What If" portfolio simulations with Vidrio?
A: Yes. As shown below, with the Model Portfolio sandbox environment you can:
Create and run ongoing model portfolios.
Drag/drop different funds into your simulation and let it run as a continuously updating model portfolio.
Share specific simulations with your internal and external stakeholders.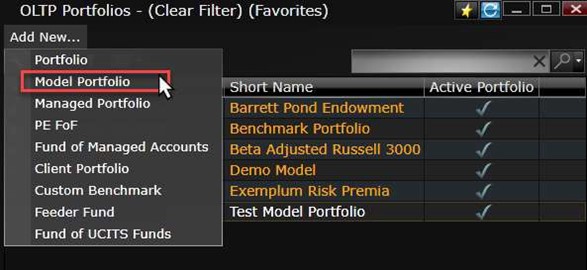 Q: Can I track historical fund term changes?
A: Yes. The enhanced list, "Fund Terms History" provides a complete record of changes to fund terms.


The above Fund Terms History feature enables users to maintain detailed records for audit purposes and further mitigate operational risk around trading and portfolio liquidity.
Sneak Peek!
Introducing the Next Generation of Vidrio

The Vidrio team has been hard at work on the next generation of the Vidrio platform, and we are excited to share this early release view of the all-new user interface. The new, more intuitive UI brings you an enhanced user experience and will further complement our evolving multi-asset class capabilities, advanced analytics, and ongoing technology innovations.
Some of the key highlights of the new platform include:
Browser agnostic, cross-platform compatibility.
Improved visualization, hidden tool bars and drill downs.
Enhanced charting.
Shown below are a couple of examples of our new Portfolio Management and Risk/Exposure views.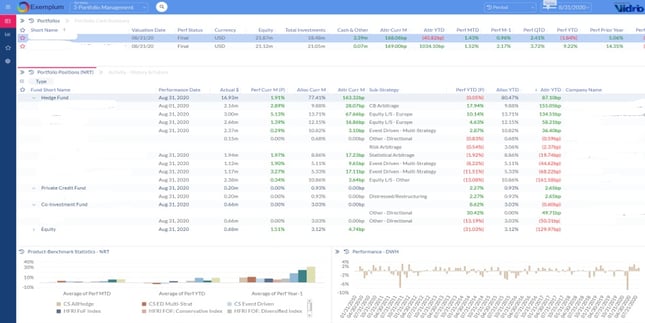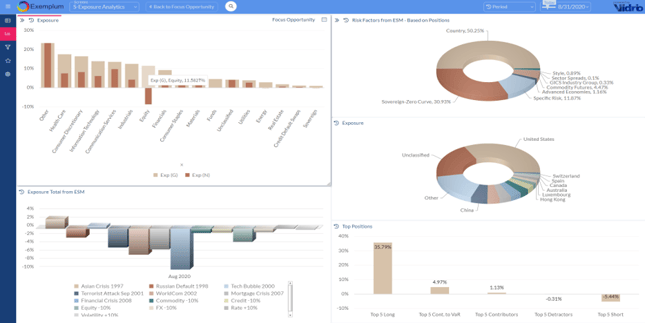 Development on the new UI continues and internal testing is underway. Contact info@vidrio.com to request a 1:1 briefing on this and all of our exciting innovations on the horizon.
Vidrio Insights: Our Latest Blog Content
Vidrio's team of experts remain on top of the latest market developments and industry trends in order to deliver thoughtful insights and best practice recommendations week over week via the Vidrio Blog. Following is a summary of our most read Q3 blog content.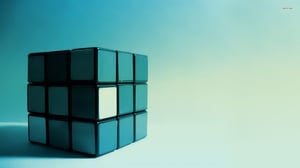 DIY Allocation
By Brian Robinson, September 1, 2020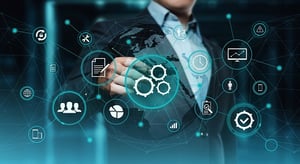 Ready for the New Normal?
By Federico De Giorgis, July 28, 2020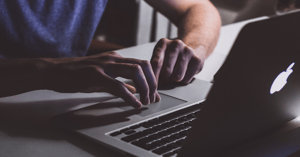 Business as Usual?
By Antonio Simonini, July 24, 2020