We are full steam ahead on the release of Vidrio 7 (V7) and are pleased to announce that the updated Investor Portal, the first release native to V7, is now fully live and available to all existing Investor Portal users.
Current Portal users are encouraged to request access and training for the new release if you've not done so already. If your organization does not currently use the Vidrio Investor Portal, please contact info@vidrio.com to request a demo.
We are excited to continue work on additional applications native to V7, including the new Transaction Editor and Trading System. We look forward to providing further updates to you in our next newsletter. If you have any questions regarding the V7 project, please do not hesitate to contact us.
Finally, please be reminded that we have enhanced our multi asset class functionality to include the integration of our Private Capital Markets capabilities. The new capabilities also include availability of the Eureka Private Equity data directly via the Vidrio platform. Existing clients can contact support@vidrio.com to discuss. If you are not a Vidrio client, but would like to learn more, please contact info@vidrio.com.
In This Issue
Support for ESG Manager Scoring/Reporting
Enhanced Account Level Performance and Statistics
Q2 Vidrio Insights – Our Latest Industry Research, Blog Posts and Media Coverage
---
Featured Releases
Support for ESG Manager Scoring/Reporting
ESG investments are growing exponentially, and while regulatory frameworks are starting to take shape, a global set of ESG standards for measuring and reporting on sustainable finance remain in flux. While we cannot speak to exactly how and when those standards will take shape, we can certainly speak to best practices for collecting, measuring and interpreting data, and we are currently accelerating ESG projects for Vidrio clients. As we continue to gain valuable insight into how our clients are measuring and interpreting ESG factors, we are in a strong position to support your individual scoring needs.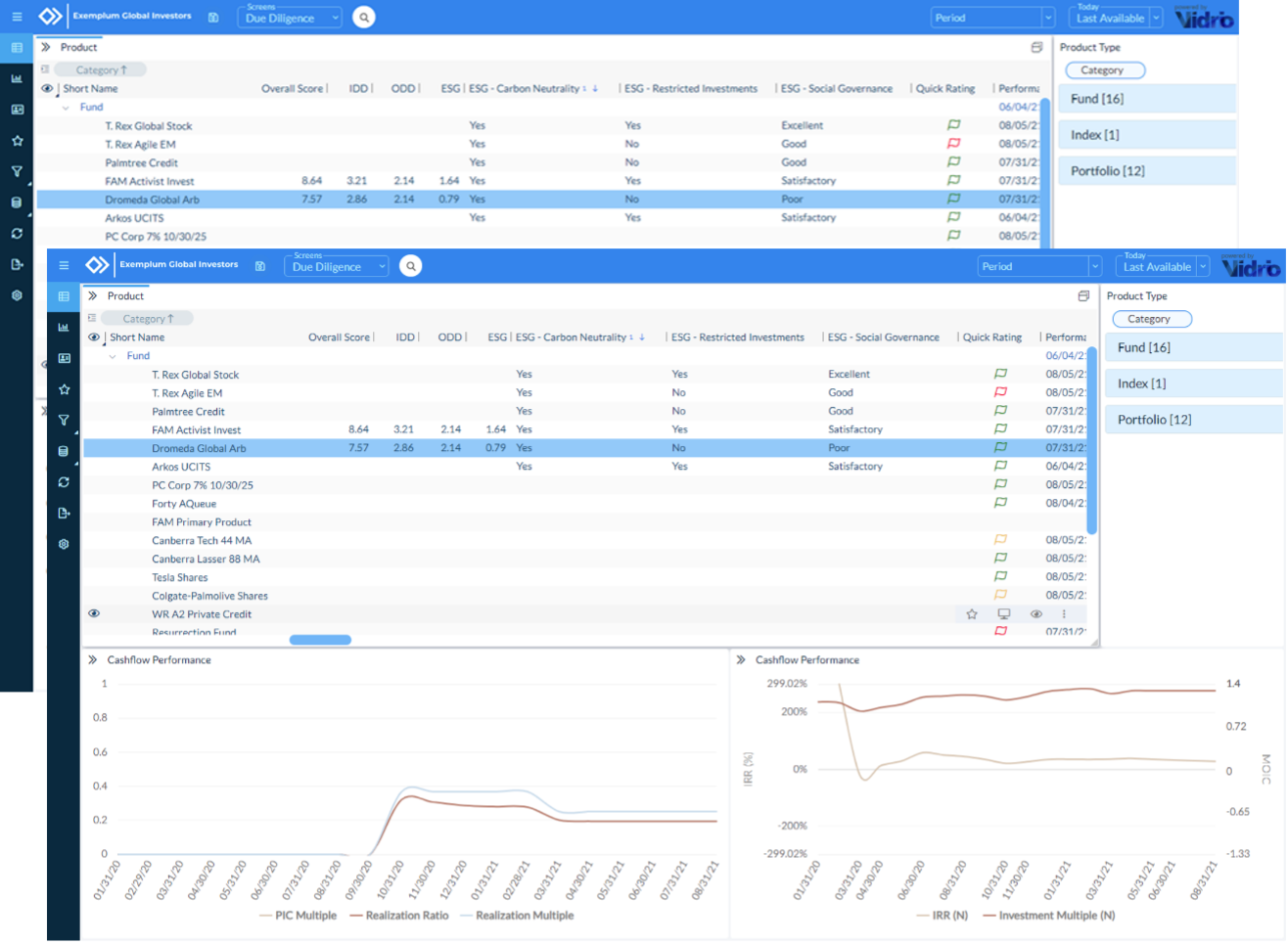 Account Level Performance & Statistics
We have added performance and statistics for the actual realized share class performance that Vidrio clients see in addition to flagship statistics.
Existing clients can contact support@vidrio.com to discuss any of the above capabilities. If you are not a Vidrio client, but would like to learn more, please contact info@vidrio.com.
---
Introducing Vidrio Views
Vidrio Views is a series of monthly market surveys and corresponding reports that analyze the sentiment of leading institutional allocators and LPs in relation to the industry's most pressing topics of the day. View our most recent reports for July and August, and to register to receive our monthly surveys and results.
Q2 Vidrio Insights
Alternatives Watch Investor Compendium 2021
Who were the world's largest institutional investors that placed some $103 billion across more than 600 investment mandates last year?
We were pleased to exclusively sponsor the inaugural Alternatives Watch Investor Compendium available exclusively to Vidrio clients and qualified market participants. View your complimentary copy.
Special Offer on Behalf of Vidrio and Alternatives Watch:
Receive 20% off your subscription to Alternatives Watch when you register with the code VIDRIO2021.
As always, we hope you find value in this update - whether currently considering options to solve your organization's alternatives allocation challenges or simply interested in best practices from across the industry. Please contact info@vidrio.com to learn more.