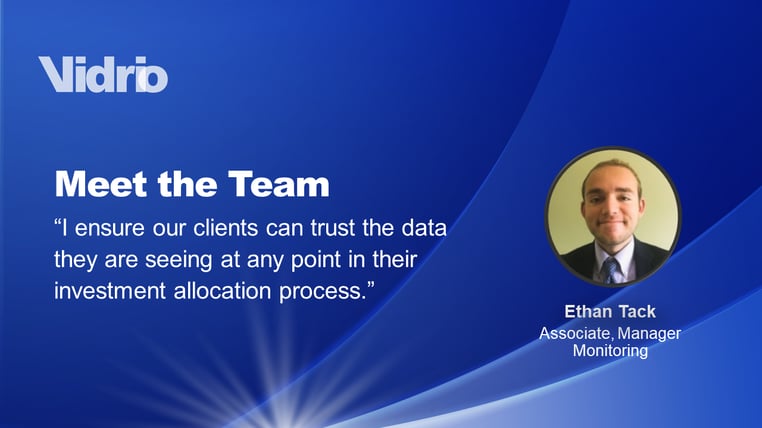 Name?
Ethan Tack

Job Title at Vidrio?
Associate, Manager Monitoring

Time at Vidrio?
Almost two years (joined January 2020)

Describe your role in one sentence.
I collaborate with fund managers to onboard their data and then provide ongoing management of that data on behalf of our allocator clients.

How do you contribute to our clients' success?
I ensure our clients can trust the data they are seeing at any point in their investment allocation process by facilitating a single source of record from which information is distributed across our clients' research, risk, portfolio management and reporting workflows.

What does your typical day at Vidrio include?
1. Ongoing collection, extraction, QC and monitoring investment data from hedge funds/fund admins and P/E managers, ensuring timely, accurate updates as the data becomes available.
2. Onboarding new investments for our clients, which includes the execution of new legal agreements with our clients' external managers to release their data to Vidrio; as well as implementing our data collection process with each new manager/fund admin, including the ongoing receipt and processing of manager data updates, investor communications, and a myriad of documents (our data collection and extraction process is a combination of automated processes and a "four-eye check" by our team).
3. Consistent customer service, which includes general customer inquiries, due diligence requests, data questions and special projects as they arise. Service is in our team's DNA, and whenever a client inquiry comes in, it becomes our immediate priority.


Outside of Vidrio hours, how do you like to spend your time?
I recently moved to Queens (Astoria), so I'm really trying to take advantage of the city and as many post-lockdown activities as possible, including a recent Thundercat concert and especially sporting events. I am a loyal Islanders fan, and I also love to see the Knicks doing well(ish). I also have the benefit of being able to find and eat diverse foods from across the city, which I then try to recreate myself at home.
If you could turn any activity into an Olympic sport, for what would you have a good chance at winning a medal?
Answering support tickets as quickly as possible. Service and making sure clients are comfortable with and confident in their data is our A1 priority, so my customer support ticket game is strong – and my typing has improved tremendously!

What are your top three "must have" songs on any playlist?
I think every playlist should have a song that makes you feel joy, one that makes you feel thoughtful, and one that makes you want to dance. Three of my favorites for this are:
I Think – Tyler, The Creator
Use Me - Bill Withers
Photo ID - Remi Wolf
What was the last book that you read?
"The Anthropocene Reviewed" by John Green was a wonderful series of essays on the human era of history. From the Lascaux Cave Paintings to Scratch n' Sniff Stickers to The Internet, it is amazing what unites the individual with the whole.
Questions for Ethan? Connect with Ethan here on LinkedIn..
Want to know more about Vidrio's managed data services for allocators? Contact info@vidrio.com or submit this form and we'll be in touch.