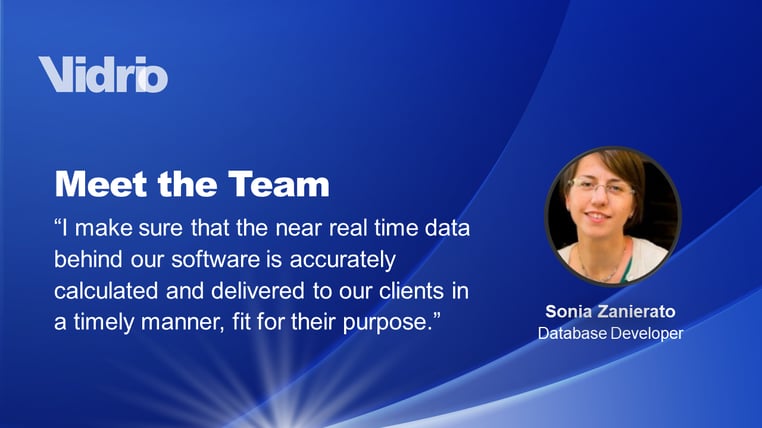 Name?
Sonia Zanierato
Job Title at Vidrio?
Database Developer
How long have you been with Vidrio?
Since 2016
Describe your role in one sentence.
As a Database Developer I create and manage the data behind Vidrio's software, including development of the data architecture and certain calculation logic.
How do you contribute to the success of Vidrio's clients?
I provide peace of mind to our clients with ongoing management of our clients' existing data structures and preparation of new structures as needed. Along with the rest of the Database team, I make sure that the near real time data behind our software is accurately calculated and delivered to our clients in a timely manner, fit for their purpose.
What does your typical day at Vidrio include?
I meet with my team to confirm status of ongoing projects and to agree priorities and next steps. For example, we check for and discuss any urgent or pending issues/requests that need to be resolved and proceed accordingly with the resolution or add to the development pipeline as appropriate. I am glad to have the opportunity to collaborate with experienced colleagues like Emanuela Dalla Libera and Massimo Ventura, and love that I am always learning.
Outside of Vidrio hours, how do you like to spend your time?
I love to spend time with my family. I have a two-year-old child named Irene. We love to travel together and take the chance to do so whenever possible. I also really love reading, road biking and playing tennis. I love music and I would like to start studying bass and piano again.
If you could turn any activity into an Olympic sport, what would you have a good chance at winning a medal for?
Reading! I read about 100 books a year on average.
What are the top three "must have" songs on your playlist?
It is tough for me to choose just three songs, but:
1. The Beatles - Come together
2. Pink Floyd - One of these days
3. David Bowie – Rebel Rebel

What was the last book and/or movie that you read/saw?
Last movie: "Dune."
Last book: "The storyteller," which is Dave Grohl's new bio.
Questions for Sonia? Find her here on LinkedIn.
Want to know more about Vidrio's managed data services for allocators? Contact info@vidrio.com or submit this form and we'll be in touch.