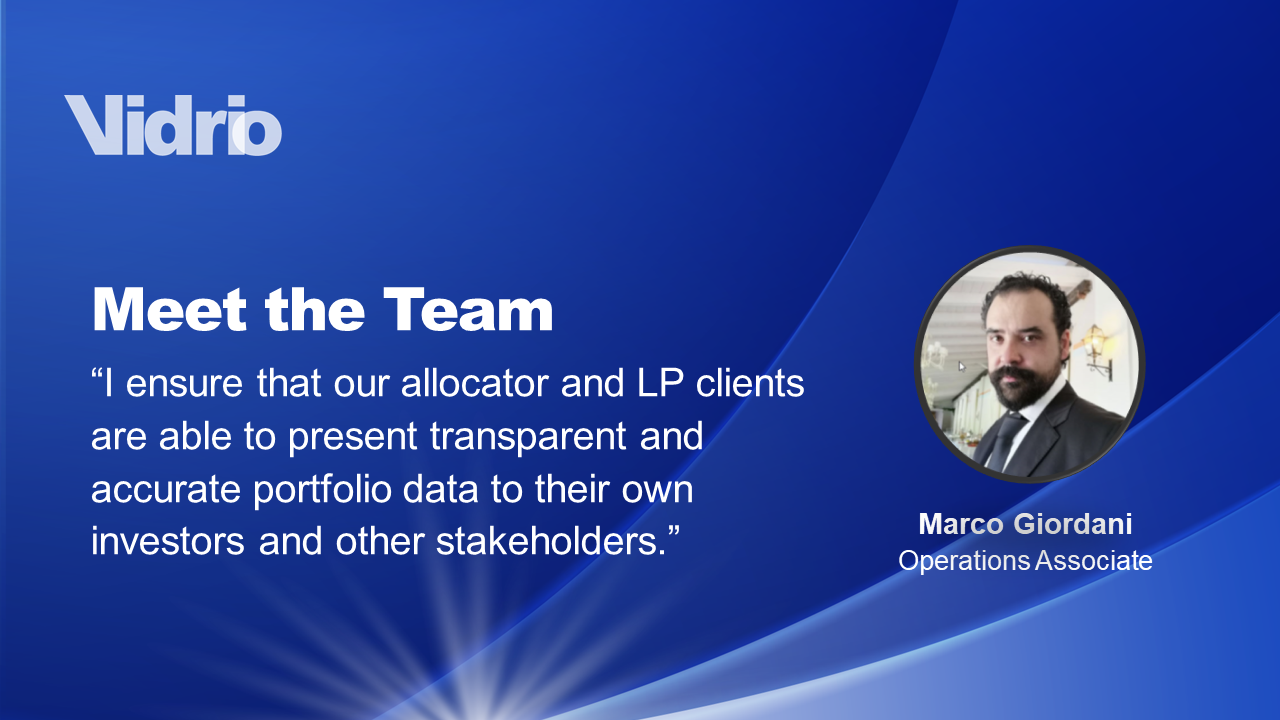 Name?
Marco Giordani
What is your job title at Vidrio?
Operations Associate
When did you join Vidrio?
November 2017
Describe your role in one sentence.
I monitor the return and contribution of every single investment that Vidrio clients make to external fund managers so that they can be ensured that their portfolios are performing according to their stakeholders' expectations.
How do you contribute to our clients' success?
I ensure that our clients are presenting transparent and accurate data to their own investors. My job is to monitor all investment activity, performance and final prices across our clients' individual portfolios and to review the monthly NAVs we receive from fund administrators on behalf of the external fund managers to whom our clients allocate. I help to align our clients' portfolio data on the Vidrio platform. This is important to our clients' success, as it enables our clients to present accurate information to their investors.
What does your typical day at Vidrio include?
In a nutshell, I spend each day processing and reconciling data. We receive data from the fund managers in which our allocator clients invest, and also valuations/final NAVs from those fund managers' admins. I process the data upon receipt, which includes quality control and monitoring of that data on the Vidrio platform. During the month, we maintain portfolio metrics - rates, fees, prices – so clients get a reliable and accurate number. If we find a mismatch, we investigate to determine if the mismatch is justified, or if there was an error in either the Vidrio calculation or data received from the fund admin. We then reconcile and adjust the data accordingly.
Outside of Vidrio hours, how do you like to spend your time?
I like to go to the gym when I can, spend time with my friends, and I particularly enjoy visiting my two nephews.
If you could turn any activity into an Olympic sport, for what would you have a good chance at winning a medal?
Nephew racing and data entry – fastest fingers in Italy!
What are your top three "must have" songs on your playlist?
1. Good Riddance (Time of Your Life) by Green Day
2. Redemption Song by Bob Marley
3. Thunderstruck by AC/DC
What was the last book and/or movie that you read/saw?
Book: The Queen's Gambit, Walter Tevis
Movie: The Pursuit of Happyness
Questions for Marco? Find him here on LinkedIn.
Want to know more about Vidrio's managed data services for allocators? Contact info@vidrio.com or submit this form and we'll be in touch.