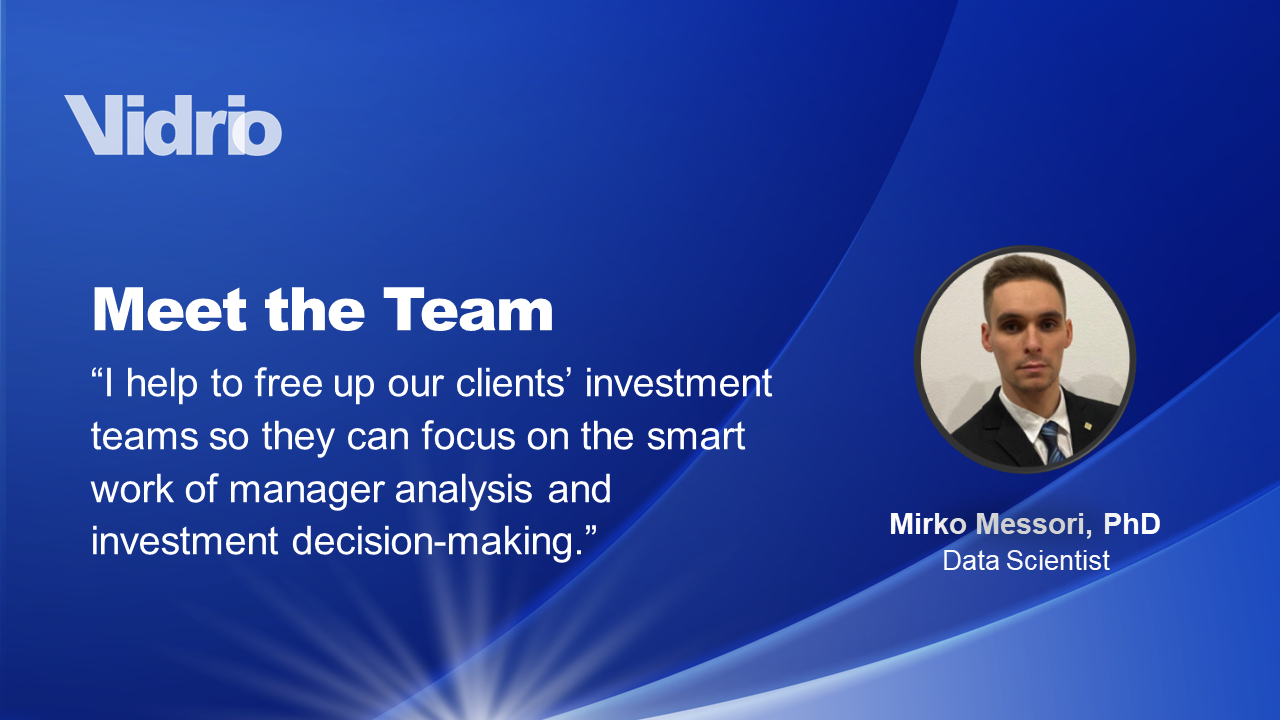 Name?
Mirko Messori

Job Title at Vidrio?
Data Scientist
How long have you been with Vidrio?
Since 2018
Describe your role in one sentence.
As a data scientist, I create value by extrapolating meaningful analytics enclosed within industry data.
How do you contribute to the success of Vidrio's clients?
I help to free up our clients' investment teams so they can focus on the smart work of manager analysis and investment decision-making. The work that I do enables efficiencies in our data collection, extraction and transformation services that are integral to the Vidrio solution.
At Vidrio, we believe that data, service and technology are critically interdependent, and true differentiation for our clients' organizations comes with how painlessly and effectively these elements are harnessed. This is particularly true now as the amount of available data continues to increase exponentially, accompanied by the emergence of new asset classes and an ever-increasing pace in the critical decisions that characterize our industry.
To this end, I am part of the team that has developed a framework for automating repetitive processes and supporting critical decisions through state-of-the-art machine and deep learning techniques. Our team has drastically increased our systematized data automation, leading to unparalleled speed and scalability for the Vidrio Service team. Combining these capabilities now with enhanced "smart" tools will further enable us to deliver unmatched managed data services to every Vidrio client.
Outside of Vidrio hours, how do you like to spend your time?
I enjoy time with family and friends, and - when possible - traveling. Having a relaxed and rested mind is the main ingredient to successfully face the challenges of the work week.
If you could turn any activity into an Olympic sport, what would you have a good chance at winning a medal for?
My favorite activity happens to already be an Olympic sport: Long-range shooting is a disciplined sport that I like to practice on the weekends. Similar to data mining, you must have the right combination of relaxation and concentration to center your target.
What was the last book you read?
A classic book about market analysis (1978) entitled "Elliot Wave Principle: Key to Market Behavior," by Robert R. Prechter.

Top three favorite movies?
I am a big fan of Quentin Tarantino's movies, so I would have to say "Pulp Fiction" is of course number one, followed by "Once Upon a Time in Hollywood." In third place: I would say "The Snatch" (it is not a Quentin Tarantino movie, but it is one of my favorites anyway, I've seen it more than 20 times!).
Questions for Mirko? Find him here on LinkedIn.
Want to know more about Vidrio's managed data services for allocators? Contact info@vidrio.com or submit this form and we'll be in touch.