In our fourth episode, we speak with Shai Davidai, Columbia Business School on the psychology of those operating in finance. Listen below.
Michael Oliver Weinberg, co-founder, Improving Alpha Podcast Series
Summary
In the world of finance, there are many discussions around the topics of economic challenges or inequality when it comes to how asset managers or asset owners navigate the market. The volume certainly increases on this theme around bonus time when performance incentives are being paid out despite market volatility and declining returns.
In this episode, Michael Oliver Weinberg, co-founder, Improving Alpha Podcast Series, is joined by Shai Davidai, Assistant Professor, Management Division, Columbia Business School, to go under the hood of economic behavioral psychology at work across asset managers and owners.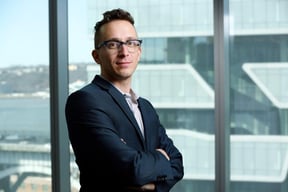 Shai discusses:
- How economic inequality is different from economic mobility and why we tend to overestimate upward mobility.
- How philanthropy factors into the internal attributions that people assume about the person that is promoting their Giving Pledge.
- How does the hypothesis of a zero-sum game factor into an asset manager or owner's strategic plan?
- How does the zero-sum game tie itself into organizations and retaining talent by offering either a zero-sum incentive program vs. a non-zero-sum program.
- And more
Connect with Shai Davidai:
About Our Guest:
Shai Davidai is Assistant Professor in the Management Division of Columbia Business School. His research examines people's everyday judgments of themselves, other people, and society as a whole. He studies the psychological forces that shape, distort, and bias people's perceptions of the world and their influence on people's judgments, preferences, and choices. His topics of expertise include the psychology of judgment and decision making, economic inequality and social mobility, social comparisons, and zero-sum thinking.
His work has been published in top-tier journals such as the Proceedings of the National Academy of Science, the Journal of Personality and Social Psychology, the Journal of Experimental Psychology, Perspectives on Psychological Sciences, and the Journal of Behavioral Decision Making.
Shai received his PhD from Cornell University in 2015. Prior to joining Columbia Business School, Shai spent a year as a postdoctoral fellow at Princeton University and 3 years as an Assistant Professor of Psychology at The New School for Social Research.
Connect with Michael Oliver Weinberg:
About Our Host:
For three decades Michael has invested directly at the security level and indirectly as an asset allocator in traditional and alternative asset classes. Most recently he was a Managing Director, Head of Alternative Alpha, on the Investment Committee and a board member at APG, a Dutch pension provider. Previously he was the Chief Investment Officer at MOV37 and Protege Partners. Michael is also an Adjunct Professor of Economics and Finance at Columbia Business School, where he teaches Institutional Investing, an advanced MBA course that he created.
Michael is a published author, having written for The New York Times, international investment books and other publications. Michael has been interviewed by the Wall Street Journal, Financial Times, CNBC, Bloomberg and Reuters. He is a frequent panelist, moderator and lecturer for investment banks, institutional and family office organizations and business schools.
The information covered and posted represents the views and opinions of the guest and does not necessarily represent the views or opinions of Vidrio Financial, and/or our host, Michael Oliver Weinberg. The Content has been made available for informational and educational purposes only. The Content is not intended to be a substitute for professional investing advice. Always seek the advice of your financial advisor or other qualified financial service provider with any questions you may have regarding your investment planning.