In our fifth episode, we speak with Greg Steinmetz about two of the richest people in history and how their contributions helped shaped the institutional investment arena today.
Michael Oliver Weinberg, co-founder, Improving Alpha Podcast Series


Summary:
When considering some of the richest people in history, you may immediately think about names like Buffet, Vanderbilt, Carnegie, Rockefeller, and more. However, there are two others that could be pulled from the pages of history that helped to shape the financial landscape that investors navigate today. They are Jacob Fugger and Jay Gould.
In this episode, Michael Oliver Weinberg, co-founder, Improving Alpha Podcast Series, is joined by Greg Steinmetz, Author & Securities Analyst, Ruane, Cunniff and Goldfarb to discuss his latest research into the world of Fugger and Gould and how that research shaped Greg's books, The Richest Man Who Ever Lived and American Rascal: How Jay Gould Built Wall Street's Biggest Fortune.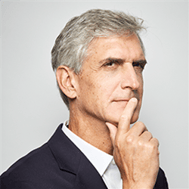 Greg Discusses:
- How did Jacob Fugger's calculated wealth of $400 billion make him indispensable to the Pope and Habsburg family?

- How can allocators today learn the importance of due diligence by reviewing the cold-blooded calculations that Fugger used to evaluate his business and those of his competitors?

- Did Fugger's fortune survive the periods of extreme market volatility through today?

-Switching to Jay Gould, how have lessons of the past, like buyer beware, been applied to a Madoff discussion or even cryptocurrency?

- Why don't we hear more about the Gould legacy in comparison to those of Vanderbilt, Carnegie, or Rockefeller?

- and more.
Connect with Greg Steinmetz
- Greg Steinmetz

About our Guest:
Greg Steinmetz is an analyst for the New York City money manager Ruane, Cunniff & Goldfarb, which manages the Sequoia Fund mutual fund. They invest in public equities across a variety of sectors based on deep fundamental research. Greg has written two books: American Rascal: How Jay Gould Built America's Biggest Fortune (Simon & Schuster, 2022) and The Richest Man Who Ever Lived: The Life and Times of Jacob Fugger (Simon & Schuster. August, 2015). Before joining Ruane, Cunniff, Greg was a reporter and editor with The Wall Street Journal.
Connect with Michael Oliver Weinberg:
About Our Host:
For three decades Michael has invested directly at the security level and indirectly as an asset allocator in traditional and alternative asset classes. Most recently he was a Managing Director, Head of Alternative Alpha, on the Investment Committee and a board member at APG, a Dutch pension provider. Previously he was the Chief Investment Officer at MOV37 and Protege Partners. Michael is also an Adjunct Professor of Economics and Finance at Columbia Business School, where he teaches Institutional Investing, an advanced MBA course that he created.
Michael is a published author, having written for The New York Times, international investment books and other publications. Michael has been interviewed by the Wall Street Journal, Financial Times, CNBC, Bloomberg and Reuters. He is a frequent panelist, moderator and lecturer for investment banks, institutional and family office organizations and business schools.
The information covered and posted represents the views and opinions of the guest and does not necessarily represent the views or opinions of Vidrio Financial, and/or our host, Michael Oliver Weinberg. The Content has been made available for informational and educational purposes only. The Content is not intended to be a substitute for professional investing advice. Always seek the advice of your financial advisor or other qualified financial service provider with any questions you may have regarding your investment planning.