In our latest Vidrio Views findings, recently covered by Hedgeweek, it is evident that while the craze of interest for crypto currencies and crypto related investment offerings persists to date, there are no meaningful examples of large institutional investors embracing this new asset class.
Following our August Vidrio Views survey, which specifically looked at the rapid
adoption of virtual due diligence meetings as allocators have begun to benefit from the
cost and time efficiencies of reduced meetings and related travel expenses; we wanted
to dig into the renewed interest we have seen in digital assets through this pandemic
to better understand where investors might be allocating to this emerging asset class
and better measure where they may need help to invest in a set of assets that up to this
point have not seen meaningful adoption.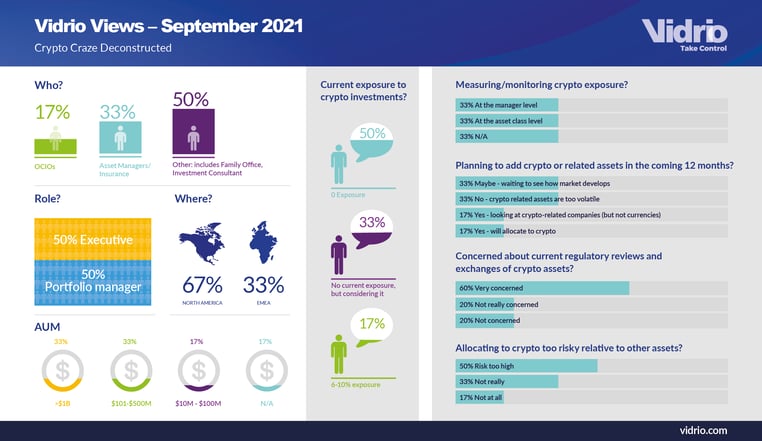 While Citigroup recently generated buzz amid reports that the bank was launching
efforts to trade bitcoin futures and Business Insider broke the news in July that
JPMorgan Chase — the bank whose CEO once threatened to fire employees for
trading bitcoin — had greenlit plans to let wealth-management clients buy and sell a
small set of crypto products, we found in our survey of clients with over $100 billion in
combined alternative assets under management in both the US and Europe, 50% had
zero exposure to any crypto currency or crypto related currency investments.
Please download the report to view the detailed survey results and corresponding commentary.
Vidrio's holistic investment management solution for "managers of managers," (aka allocators and LPs who invest in hedge funds, private equity, private credit and real estate), takes care of the nuanced and tedious process of data collection and monitoring, so our clients can focus their energy on high value tasks and investment decision-making. We welcome the opportunity to discuss your specific requirements and invite you to contact us for a consultation.
About Vidrio Views
Launched in July 2021, Vidrio Views is a series of monthly market surveys and corresponding reports that analyze the sentiment of leading institutional allocators and LPs in relation to the industry's most pressing topics of the day.
View the Vidrio Views archive and subscribe to receive our complimentary reports via email each month.