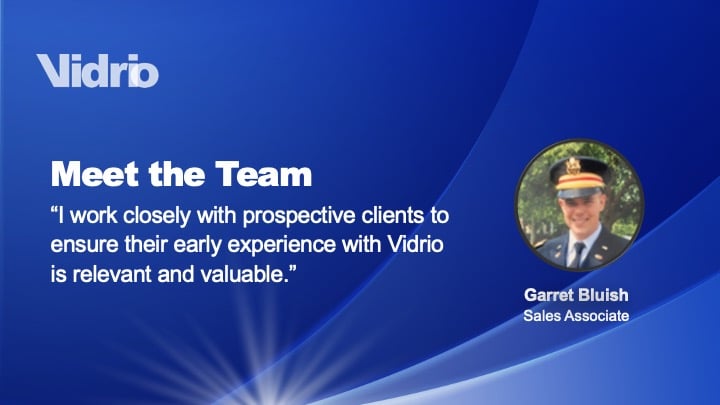 Name?
Garret Bluish
What is your job title at Vidrio?
Sales Associate

How long have you been with Vidrio?
Since September 2021

Describe your role in one sentence.
I create and maintain a steady flow of information between Vidrio's business development, marketing and product teams by conducting initial marketing research, supporting product launches and go to market campaigns, maintaining aspects of our product demo platform and creating consultative relationships with our prospective clients to ensure their communications and experience with Vidrio are relevant and valuable.


How do you contribute to our clients' success?
I am the first line of communication with prospective new clients, so listening is my number one job. I listen and consult to understand the needs of the allocators and LPs who are interested in Vidrio's offerings, so that we can propose a solution that meets their specific requirements and ensures a successful implementation in the long run.

What does your typical day at Vidrio include?
I spend a lot of time e-mailing or talking to prospective clients, providing demos of the Vidrio platform, answering and/or researching answers to our prospects' questions, conducting market research, maintaining a clean and transparent database to ensure we have accurate lines of communication with prospective clients, recording prospect needs and helping our product and sales team to translate those needs to solutions.
Outside of Vidrio hours, how do you like to spend your time?
I spend a lot of my free time hiking and traveling with my fiance. I love to golf, and to read, especially if it's reading on the beach. I also serve in the New Jersey Army National Guard as a Signal Officer. I'm currently head of comms for the 117th Combat Support Sustainment Battalion. This means I handle all the physical aspects related to communications, networks, radios, etc.
If you could turn any activity into an Olympic sport, for what would you have a good chance at winning a medal?
Making ethernet cables – it is the first thing I test all my new soldiers on!

What are your top three "must have" songs on your playlist?
1. Here I Go Again – Whitesnake
2. The Business – Testito
3. Let's Go - G6

What was the last book and/or movie that you read/saw?
Movie: "Invincible" (Go Eagles!)
Book: Principles for Dealing with a Changing World Order: Why Nations Succeed and Fail" by Ray Dalio
Questions for Garret? Find him here on LinkedIn.
Want to know more about Vidrio's manager and portfolio monitoring services for allocators? Contact info@vidrio.com or submit this form and we'll be in touch.