For firms that desire continuity across all their teams, the multi-function single-vendor solution is a reasonable choice for the benefit of reporting alone. This level of centralization helps prevent discrepancies in data, reduces the drag of transferring information and work between systems, and promotes collaboration and transparency. The system dashboard becomes the information source for clients, prospects, and team members, instead of the limited data capture. This way, if you need more information to answer a question, you can do it in real-time.
Operationally, the multi-function solution includes a full suite of technology that covers the range of office functions, while data support, reconciliations, workflow development, and document gathering are either performed by in-house staff or by the vendor's data services. Unfortunately, because the single-vendor often separates software from data servicing, the firm is left to source, clean, load, and maintain the core data inputs that power the vendor-provided software. As the volume of data increases, it becomes a more significant burden on your highly qualified and expensive staff. More importantly, you want your analysts to analyze, not to do data entry, or other tasks that can be automated.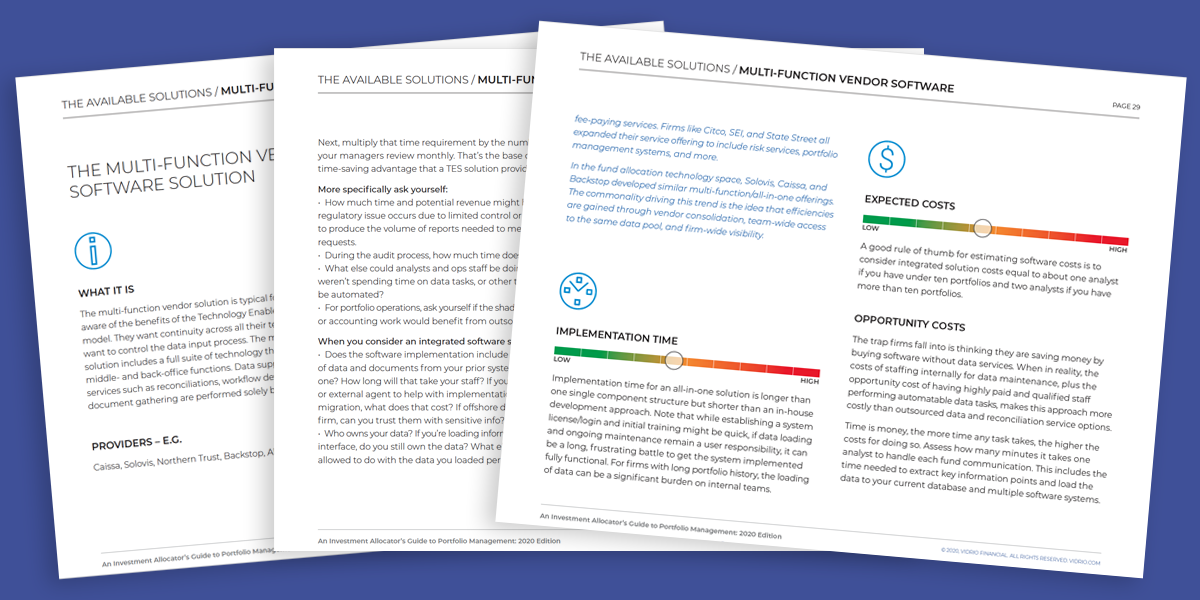 When you consider an integrated software solution, does the software implementation include the backloading of data and documents from your prior system? Imagine how much time and revenue might be lost if a regulatory issue occurs due to limited control or the inability to produce the volume of reports needed to meet regulatory requests.

Consensus currently favors system integration over a multi-vendor approach. The theory is that vendor consolidation, team-wide access to the same data and technology platform, and better firm-wide visibility deliver efficiency and immediacy for allocators and fund management. For firms that understand how data-hungry enterprise software gets, choosing a vendor that combines software and data services is a better alternative.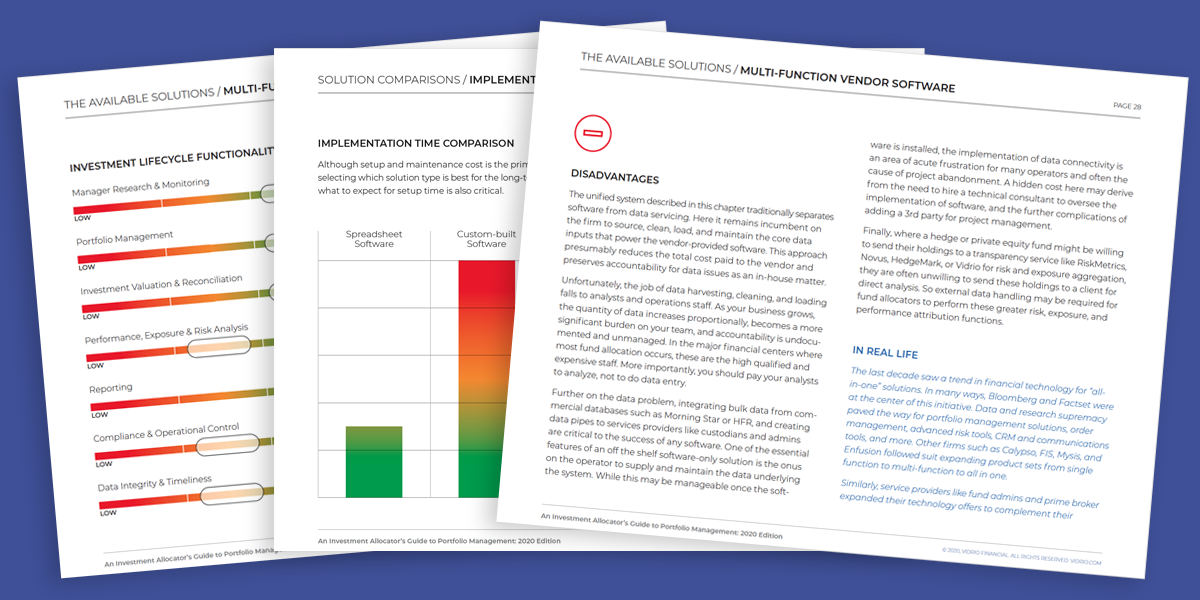 Get additional detail about the Multi-Function Single-Vendor solution and how it stacks up against Spreadsheets, Custom-built, Multi-Vendor, and Technology Enabled Service Solutions in the Investment Allocator's Guide to Portfolio Management Solutions eBook.