Data integrity in the due diligence and allocation process has never been so important, as evidenced in the August 2021 publication of Vidrio Views, our monthly market survey of global allocators and LPs representing more than $100 billion in alternatives assets under management released August 17, 2021.
Following on from our inaugural Vidrio Views survey published in July 2021 that found inflation expectations leading to higher allocations to alternatives, we wanted to dig deeper on two key trends that have evolved among allocators and LPs over the past 15-plus months in response to the Covid-19 crisis and related market volatility.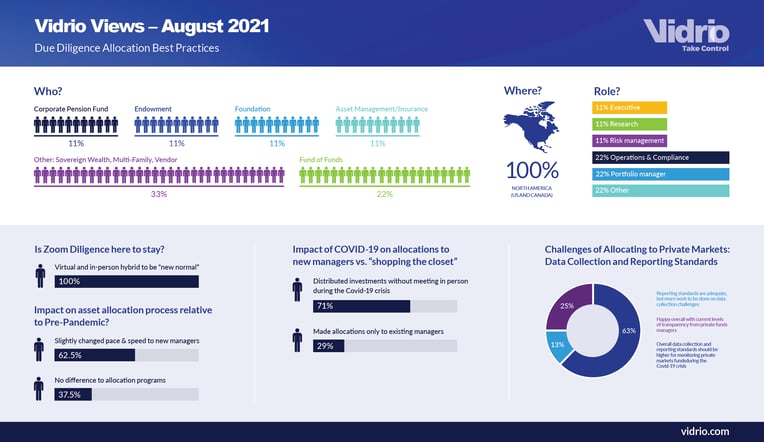 Specifically, we wanted to understand the rapid adoption of virtual manager
meetings as allocators began to benefit from the cost and time efficiencies of
reduced meetings and related travel expenses; and also, an entirely new set
of data management and reporting challenges that have stemmed from the
exponential flow of allocations to private funds managers. We fundamentally
wanted to understand the confidence level allocators had in working in a new
way while the world has continued to grapple with a health crisis that looks far
from being resolved.

What we found was that as the pandemic has dragged on, working practices are
fundamentally changing, and with that we expect how data is used and collected
will continue to evolve as well.
Please download the complete report to view the survey results (no form fill required).
At Vidrio we are in constant dialogue with our clients and potential clients to ensure we remain attuned to their business requirements and are always evolving our practices and data systems appropriately. Our state of the art and holistic investment management platform - designed specifically for allocators to alternatives funds - can provide peace of mind in these uncertain times. Vidrio takes care of the nuanced and tedious process of data collection and monitoring, so our clients can focus their energy on high value tasks and investment decision-making. We welcome the opportunity to discuss your specific requirements and invite you to contact us for a consultation.
About Vidrio Views
Launched in July 2021, Vidrio Views is a series of monthly market surveys and corresponding reports that analyze the sentiment of leading institutional allocators and LPs in relation to the industry's most pressing topics of the day. View the Vidrio Views archive and subscribe to receive our complimentary reports via email each month.