Free Infrastructure ROI Consultation
You have many options when it comes to your fund management infrastructure, but have you fully assessed the total business ROI?
Spreadsheets/Excel-based

In-house Custom-built

Multi-vendor

Multi-function Single Vendor
Many of these available solutions have hidden expenses and efforts including operational risks and data management costs, so determining the real ROI is challenging. But through Vidrio's deep experience working with many institutions to integrate with or replace these software solutions, we have gained unique insights into the true ROI potential for each.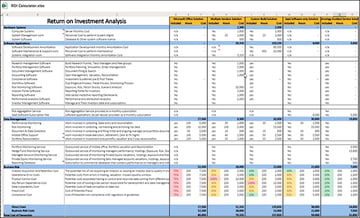 We are happy to invest the time to share our perspectives with you free of charge. We understand we may not always be the most affordable solution, and another option may be more effective for you. But after our detailed analysis, we are confident you will have the information you need to make a better informed decision. Based on our models this doesn't need to take weeks or months and an initial review can be covered in a few days.
Please contact us to see how you may benefit from this ROI modeling.