How are institutional investors driving growth and efficiencies while exploring new operational trends, industry advancements and innovation? We review the insights from last month's London Fund Operator Summit.
By: Nick Bourne, Commercial Director, EMEA, Vidrio Financial
We had the privilege of attending the Clear Path Fund Operators Summit in London, where we had the opportunity to gain valuable insights into the unique challenges that investment and fund operation leaders face. Here are some of the key takeaways and unique perspectives from this event, and how Vidrio is making a significant impact in the institutional investment space.
Fee Pressures and the Move to Outsource Operations:
During the roundtable discussion on the Future of Investment Operations, industry leaders including Igor Bosnjak, Global Head of Investment & Data Operations, Russell Investments, Tim Harris, Head of Operations, LGPS CIV Ltd., Michael Germano, Chief Operating Officer, BNY Mellon, Meagen Burnett, Group Chief Operating Officer, Schroders, shed light on the challenges faced by asset managers. The panel highlighted the mounting pressure on fee monitoring and management, which has led to significant operational issues. According to a July PWC survey, asset managers have witnessed a decline of around 10% in performance between 2021 and 2022, adversely affecting management and performance fees. In addition to this, the challenging economic market and higher interest rates have prompted asset managers to explore M&A opportunities to tap into new markets and foster growth. Fees are expected to decline even further which will benefit larger funds which can absorb lower revenues from fees as they pick up more clients.
The discussion then shifted toward the topic of outsourcing operations, and during this segment, we observed several recurring themes and valuable insights shared by the panelists.
Outsourcing operations can be a great solution if the solution accurately meets the demands.

You need to find the right partner that not only meets the demands but has a scalable solution by closing any gaps between the front, middle, and back offices.

Don't overlook small technology providers vs. larger legacy brand names. The panelists found that most often the smaller providers are nimbler and provide greater services along with solution software.

Data needs to be looked at as a strategic asset. We're all data-driven at our core, and we need to get on top of our data quality, making it accessible, correct, and transparent, (Vidrio instant perspective: where have we heard that before 😊).

Data strategy depends on strategy + technology + culture.

Regulators have begun to ask questions about 'provider concentration' as an operational risk.
At Vidrio, we collaborate with a diverse range of asset owners and managers to design and configure a platform that caters to the current needs of institutional investors while also being scalable for the future. As the complexity of portfolios continues to grow, encompassing hedge funds, private equity, real estate, private credit, and more, the volume of data involved is rising exponentially. This data needs to be recognized as a strategic asset, as emphasized by the panelists mentioned earlier. Institutional players must consider how their chosen partner will drive their business forward, transitioning from their current state, which may involve using Excel spreadsheets, in-house solutions, or multi-vendor platforms, to addressing future inquiries. These inquiries may revolve around achieving better data transparency from various sources, obtaining timely private market data, enhancing liquidity, implementing modeling and simulation techniques in portfolios, or improving risk analytics and reporting. If you're curious to explore further how Vidrio Financial analyzes the different platform categories that potential clients fall into today, we invite you to check out our e-book, which serves as a valuable resource to understand the direction your own technology may be heading.
Asset Management Digitization and AI:
As the conference reached its mid-day point, we eagerly attended the Keynote Presentation titled "Driving Growth and Efficiency in Asset Management: A Strategic Approach to IT Transformation." This insightful session featured Rodney Hutchinson, Director of Strategy & IT Transformation at M&G Investments. Rodney's perspective on data capture resonated deeply with Vidrio Financial, as he broke down the data pipeline into a series of simple flow chart stages. These stages included:

Rodney's expertise shed light on the crucial steps required to improve data quality, eliminate inefficiencies, and pave the way for future automation.

Through this flow investment teams should be able to better unify and understand the data pipes thereby improving quality, removing inefficiencies, and evolving their methods to try and automate the process for the future to gain further efficiencies. On average, Vidrio monitors ~$120-$130 billion of assets allocated on our platform running through our AI models. This implementation and execution are just the beginning as we continue to scale our client's portfolio monitoring and data collection needs.
Rodney further emphasized during his presentation the significant advantage of promoting the widespread adoption of digitized data collection and reporting. Given the cautiousness that we're seeing among asset owners and managers as it relates to digitization, we believe that adoption will be fully optimized when the blending of human expertise and software meets. These ideas were supported later in the day during the Fund Operations in the Era of AI: What is the New Role of Humans that featured, Dr. Martin Goodson, CEO & Chief Scientist, Evolution AI. The main takeaway from that session reaffirmed our previous statement regarding the collaboration of human expertise and AI. Dr. Goodson concisely summarized that while A.I. models may outperform humans, and humans often become bored with repetitive tasks, leading to more errors, AI systems are still learning. Ultimately, the systems we create rely on human knowledge, which means that AI still requires human input to learn and develop.
Leaving the "S" out of ESG:
Arun Kelshiker, Vice Chair DEI Committee and Investment Committee, Standard Chartered was up next in the Fireside Chat segment on Social Issues to the Fore: Where are we with the "S" in ESG? Here at Vidrio, we cover an entire podcast on the improvement of alpha by leveraging ESG and technology. Many of our podcast guests seemed to echo what Arun was mentioning at this event, with recent ESG focus on the E & G but leaving out the social aspects. However, we have also seen this is changing, social issues can be used for more red flag due diligence among investors to move away from fund managers that don't take it seriously enough or to even go a step further and rebalance allocations towards funds that are more aligned with these values.
Vidrio recently ran its own ESG study as an update to our initial 2021 research.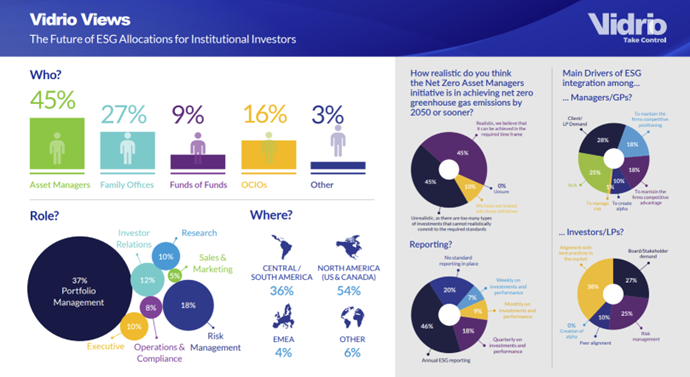 We discovered that ESG measurement is still navigating the treacherous waters of "measurement overkill," where investment teams attempt to measure every aspect of ESG but end up overwhelming themselves with data that doesn't directly impact financial performance. Arun, also shared similar insights, highlighting that current ESG data is outdated and could greatly benefit from standardization to distinguish effective practices from excessive measurement. Despite these challenges, our own ESG research indicates that stakeholder demand and a push toward market best practices will continue to drive ESG integration among both general partners (GPs) and limited partners (LPs). To gain a deeper understanding of our ESG allocation perspectives for institutional investors, we invite you to download our research here at Vidrio.
If you're eager to delve deeper into Vidrio Financial's partnership with asset owners and managers, don't hesitate to reach out to us through our website. We would be delighted to guide your team through our demo environment, tailor a plan to suit your objectives and help you achieve your goals.